Archive for December 2010
Elaborate sting operations not only risk entrapment of bogus terrorist suspects, but worse, they wreck vital community trust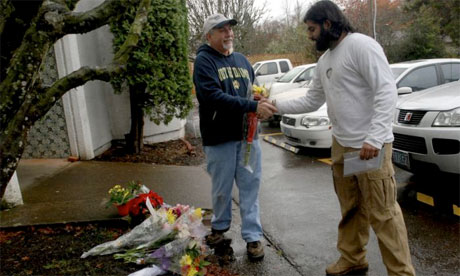 [Retired teacher Larry Pickard, left, shakes hands with Mohsin Saeed on 30 November 2010, at the Salman Alfarisi Islamic centre in Corvallis, Oregon. Pickard was among many non-Muslims who offered help and sympathy after a fire was set at the mosque in apparent retribution for the attempt to set off a car bomb at a Christmas tree lighting ceremony in Portland allegedly by Mohamed Osman Mohamud, who was arrested in an FBI sting operation. He has pleaded not guilty. Photograph:
AP Photo/Jeff Barnard]
http://www.guardian.co.uk/commentisfree/cifamerica/2010/dec/07/islam-terrorism
The recent arrest of the potential Christmas tree bomber is reflective of the FBI's myopic strategy of using glitzy, expensive sting operations and dubious confidential informants to further erode Muslim American relations instead of concentrating on effective partnerships to combat radicalisation. The FBI is promoting the arrest of Mohamed Osman Mohamud, a 19-year-old Somali-born teenager accused of attempting to detonate a car bomb at a Christmas tree-lighting ceremony, as a triumph of effective law enforcement. Instead, the operation reeks of gratuitous self-adulation, requiring 6 months of time and precious expenditures to "uncover" a dummy terrorist plot wholly scripted and concocted by the FBI in the first place.
Although many argue that this was simply entrapment, evidence does indicate that Mohamud became increasingly radicalised and voluntarily continued with the FBI's fake terror plot. Regardless, CAIR attorney Zahra Billo told me, "The FBI seek out troubled people – nobody is arguing that some of these individuals aren't deeply troubled – and then enable and facilitate their aspirations. It is the FBI's job to stop operational terrorists. It is not the FBI's job to enable aspirational terrorists."
Attorney General Eric Holder recently suggested the use of such sting operations were "part of a forward-leaning way" in which law enforcement could proactively find those individuals committed to harming Americans, and a study revealed that 62% of terror prosecutions relied on confidential informants. But recent episodes suggest these tactics are neither "forward-looking", nor effective. Instead, they contribute towards a deepening, polarising wedge between law enforcement officials and some of their most important assets in the war against extremism: Muslim American communities.
Recently, a former FBI confidential informant, Craig Monteilh, humorously codenamed "Oracle", revealed he was paid $177,000 tax-free by the FBI to infiltrate and entrap a southern California Muslim community. The convicted forger, who went by "Farouk al-Aziz", was served with a restraining order by the mosque after he repeatedly pestered attendees with absurd conversations about engaging in violent jihad. Not to be deterred, the FBI heavily relied upon Oracle's superlative evidence, consisting of taped conversations, to indict an Afghan-American language instructor for allegedly making false statements regarding his ties to terrorists. Moreover, prosecutors alleged he was the brother-in-law of Osama bin Laden's security coordinator. Read the rest of this entry »
Bill O'Reilly has the scoop on how Jews, liberals, Scientologists and Obama will ruin Jesus' birthday for everyone
BY WAJAHAT ALI
An abridged version of this piece appeared on
SALON.COM
AP/Evan Agostini
TIME: 8 p.m., November 2010
SETTING: Fox News studio, the set of Bill O'Reilly's "O'Reilly Factor"
Bill O'Reilly: Welcome back, loyal viewers. Now, you all might recall that "I won the war on Christmas" a few years ago. But the forces of darkness are always creeping — like sharia — and it seems they have risen from their weed-induced slumber. The atheists are now using billboard propaganda on our children to erase Christ from Christmas!
The Jews and Muslims apparently can't find peace in the Middle East, but they sure can join forces to declare war on Christmas and blow up our Christmas trees! And who can blame them? They're simply taking the cue from President Obama's government.
Well, today, "The O'Reilly Factor" has received an Iranian nuclear bomb of an exclusive. Government documents containing confidential, top-secret information obtained by a patriotic whistle-blower have been leaked.
These Weakileaks conclusively prove a long-term, strategic agenda organized by President Obama, socialists, Muslims, secularists, atheists, liberals, gays and Jews to effectively annihilate all vestiges of traditional Christmas images, icons, themes and messages from America. Respectable news outlets, such as Atlas Shrugged and WorldNetDaily, are joining FoxNews.com in publishing these leaks.
Below find some of the highlights on how they seek to destroy "Christmas":
The War on American Culture
will.i.am is currently in the studios remixing Bing Crosby's "White Christmas" and renaming it "Biracial, Multicultural Holidays." An a cappella version will be released by Yusuf Islam.
The ACLU is actively lobbying Congress to criminalize public displays of "The Nativity Scene" that exclusively portray the birth of Jesus. Christian religious scenes will only be allowed if they are accompanied with the following exhibits: a wax figure of Charlton Heston playing either "abandoned baby Moses in a basket" or "angry Moses parting the Red Sea"; a wax figure of Keanu Reeves as Buddha receiving enlightenment under the Fig Tree; a censored drawing of the Prophet Muhammad receiving revelation; a statue of Vishnu or Ganesh adorned with garlands; Xenu's spaceship.
An Arabian Palm Tree will be the official White House Christmas tree for the Obamas.
By 2012, "Christmas Trees" all around America shall be officially renamed "Miscegenation Trees," and evergreens will be replaced by a new hybrid of olive and date trees.
"Gingerbread Men" shall be renamed "Gingerbread People" in order to emasculate white, heterosexual men and promote a gender-neutral, androgynous society.
The "Gingerbread People" shall be adorned with rainbow frosting and tight biker shorts.
The War on the American Economy
With the U.S. economy effectively doomed by 2013, "Christmas Eve" will be renamed "Lower Your Expectations and Learn to Deal — Eve."
In 2014, "Black Friday" will be rebranded a national holiday celebrating revolutionary African-American activists and protest movements. Jheri curls and Afro wigs will be deeply discounted on that day only.
As a result of planned Affirmative Action initiatives, malls can no longer employ white men to play Santa. Instead, only dark-skinned men will be hired to play Santa.
Obama will eventually socialize Christmas to ensure every child, regardless of wealth or privilege, receives at least one government-subsidized toy, thereby increasing government taxes and spending and further crippling the economy — as per his primary mission directive.
Dora the Explorer will be renamed Dora the Red Army Explorer; Thomas the Train shall be repackaged with Chairman Mao's face and renamed "Mao's Peoples' Train"; a plastic, movable head of Kim Jong Il will be attached to existing "Ken" dolls, effectively renaming "Ken and Barbie's Playhouse" to "Kim Jong Il and Random White Woman's Communist Republic."
The War on the American Media
"The Jews" will officially announce that they in fact actually do own Hollywood and the media. They will remove all traces of "Miracle on 34th Street" from television broadcasts and brazenly replace it with "The Chosen" starring Robby Benson.
In order to appeal to the growing Mexican-American population, "The Jews" will dub all existing copies of "It's a Wonderful Life" in Spanish and digitally remove every image of Clarence the Angel and replace him with Telemundo's Bumblebee Man.  Read the rest of this entry »